Awaara is, in my opinion, one of the best movies of Indian Cinema. Raj Kapoor was a master of his craft and at only 27, he directed this gem. The first time I saw this I was about 15 and I honestly didn't like it, apart from the fact that Raj Kapoor and Nargis looked absolutely beautiful on screen. But the second time around, I just fell in love with the way it portrays the shortcomings of Indian society. The movie really shows how a person is the product of their upbringing and surroundings rather than their birth status.
Aar-Paar (1954)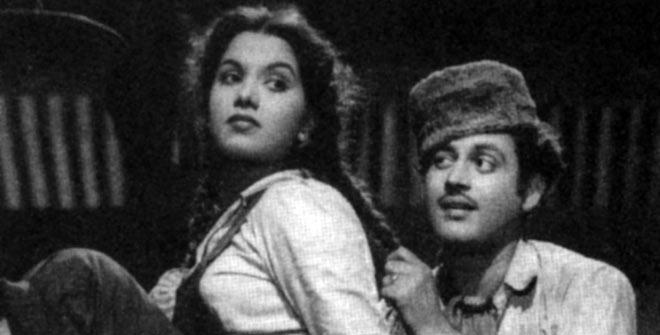 Guru Dutt is one of my favorite directors of all time and even though this movie does not dwell on serious topics unlike much of his other work, it still is one of his best works. The storyline is pretty similar to most romantic movies of the era, the way Guru Dutt and Shyama portray the characters is remarkable.
Okay, truth be told, I am a bit of a Raj Kapoor fangirl. I think his movies are amazing and Shree 420 is one of his greatest works. Not only are the songs super famous ("Pyaar Hua"; "Mera Joota hai Japani"), the storyline is one of my favorite ever. The main character, Raj, discovering the consequences of his corrupt ways and the ending scene are just superbly done.
The correlation between Guru Dutt's real life and this movie is gut-wrenching. In all honesty, the only reason I wanted to watch Pyaasa was to sound, at least in my opinion, intellectual. But as soon as I started the movie, I was taken aback. Unlike most movies in Indian cinema which try to portray a happy ending and a perfect world, this movie focuses on how grim and real the world is. My favorite part of the entire narrative is the character Gulabo, a prostitute, played by Waheeda Rehman, specifically the way they show how Gulabo, working in what is considered an immoral profession is the only moralistic and humane person.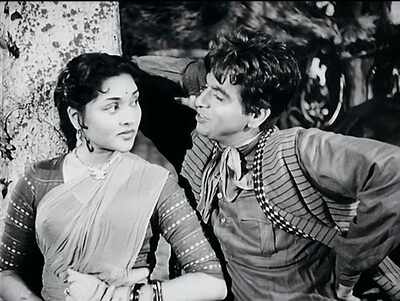 'Naya Daur' literally translates to 'New Era' which is the basis of this movie. One of my favorite thing about watching movies, specially old movies, is being able to feel and observe how people felt at that time. It's like your own personal time machine. The advent of technology on the working class in rural areas was a big step and widely impacted the people's lives and livelihood. The movie is like a history lesson and the vibrant songs just make this an all around classic.
Chalti Ka Naam Gaadi (1958)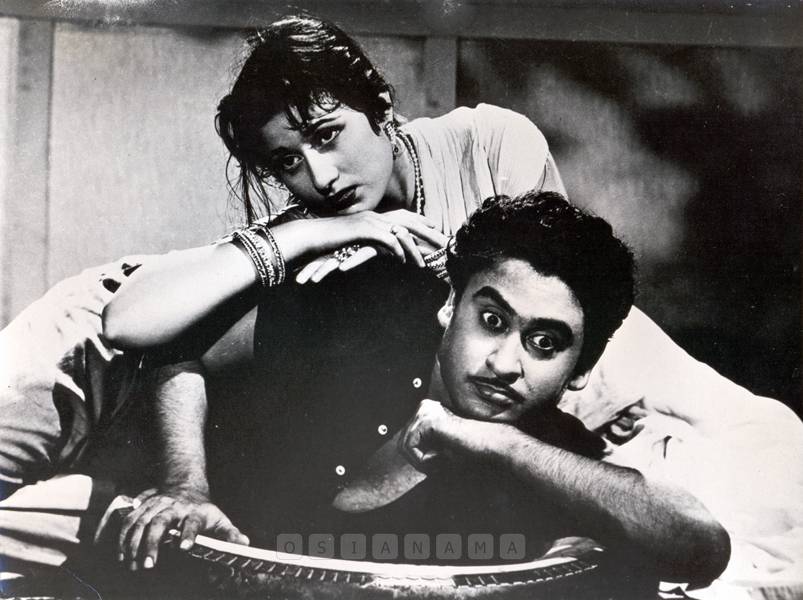 I am a huge fan of Kishore Kumar and in my eyes all his movies are amazing but this one is on the top because not only is the story amazingly eccentric, Madhubala and Kishore Kumar make the most delightful pair. "Ek Ladki Bheegi Bhaagi Si" is one of my all time favorites and watching the trio of three real life brothers, Kishore Kumar, Ashok Kumar and Anoop Kumar, is a godsend.
'Madhumati' is a classic that I had been wanting to watch for a long time, ever since I heard 'Om Shanti Om' was based on it. I didn't have much expectations for it, already knowing the storyline, but I was blown away by the movie. Unlike it's 2007 counterpart, the depth of the characters potrayed by Dilip Kumar and Vyjayanthimala, and the well developed sequence of the story makes this an absolute must watch.
'Kaagaz ke Phool' is one of the most heartbreaking movies I have ever seen. The reason I admire Guru Dutt and adore his movies is because of how realistic his characters and his stories are. They show humanity as it's raw and savage self. This movie shows the intricacies and details of the ever changing movie industry. The expend-ability of actor and directors (which could be seen in Guru Dutt's real life) makes this movie so engaging and the ending just takes the cake.
I am an easy crier, unlike my brother, but this movie made him go to his room and sob. Bollywood does a great job of depicting friendships and 'Dosti' is a perfect example. Ramu, a young boy who loses his legs and Mohan, a blind young boy, befriend one another and become each other's support system.
Ah, Guide. This is one of the first movies I saw after my obsession with classic cinema started. Based on the novel of the same name by R.K. Narayan, the story of a cynic who turns into a source of faith for many, is just the most beautifully created movies, in my opinion. Waheeda Rehman and Dev Anand play such powerful characters and their portrayal is just ground breaking. More than that, the songs of this movie will forever be iconic. In fact, I would not stop singing 'Din Dhal Jaaye' for the entirety of a month after watching this movie.
The major root of my love for cinema is because of my father, who is a big movie buff himself. This is one of his favorite movies and has become one of mine too. The whole movie is a poetic experience. Each song is remarkably beautiful and thoughtful. The ending with the third promise (kasam) being fulfilled is one of the greatest scenes of Indian Cinema.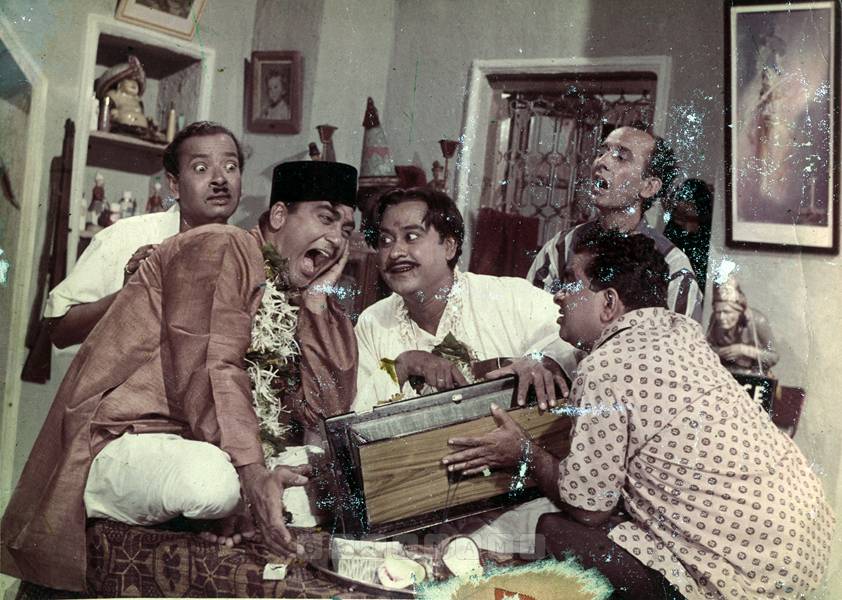 'Padosan' is the greatest thing to come out of Indian Cinema. I said what I said. This is the funniest movie Bollywood has ever produced and it was also my introduction to Bollywood. Kishore Kumar as an eccentric music guru and Sunil Dutt as his absolutely untalented novice make for the perfect pair. 'Ek Chatur Naar' and 'Meri Pyaari Bindu' are by far the funniest songs ever.
Manoj Kumar is known for the depiction of patriotism in his movies and even though they are not my cup of tea, this movie was beautiful. Not only was this the first Manoj Kumar movie I ever saw, it also made me a fan of Saira Banu.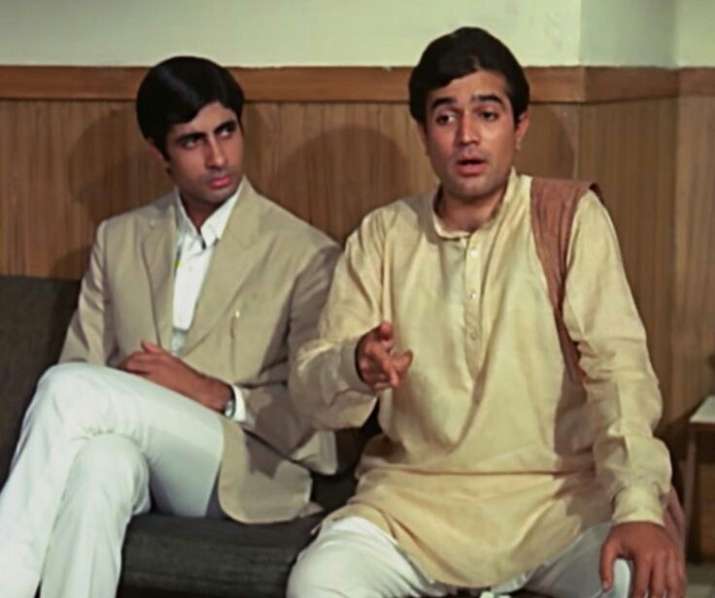 Hrishikesh Mukherjee is an artist. All his works are so well written and performed, you can pick any one of his movies and you'd be guaranteed a good time. Rajesh Khanna's 'Anand', shows how to live life and how one can live a thousand days in a limited amount of time. The movie is an ode to human life and the need to live large, as Anand says, "Babumoshai, zindagi badi honi chahiye, lambi nahi."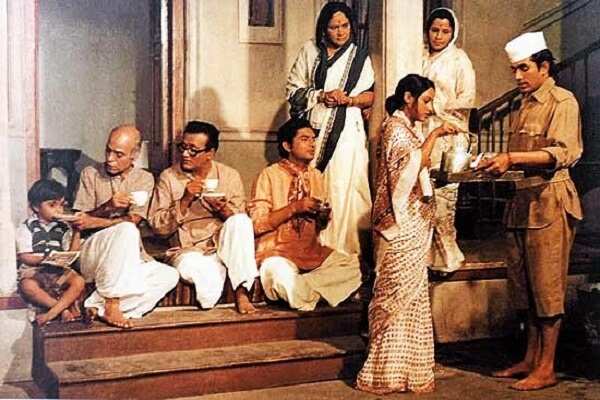 Another one of Rajesh Khanna movies on the list. 'Bawarchi' is the story of a broken family and how it is bought together by their cook, hence the name. It's a feel good movie with elements of drama (Cause Bollywood) but what takes the cake for me is the narration at the end of the movie when, the narrator Amitabh Bachchan says, " Raghu is going to a new home. Let's hope it is not yours ".
No Bollywood movie list is complete without 'Sholay', and it deserves all the love it gets. Jai and Veeru have set the bar for movie friendships. The movie is comedy gold with the entire 'Mausiji' sequence on top of the water tanker by Veeru and the dynamic between the characters is one for the ages.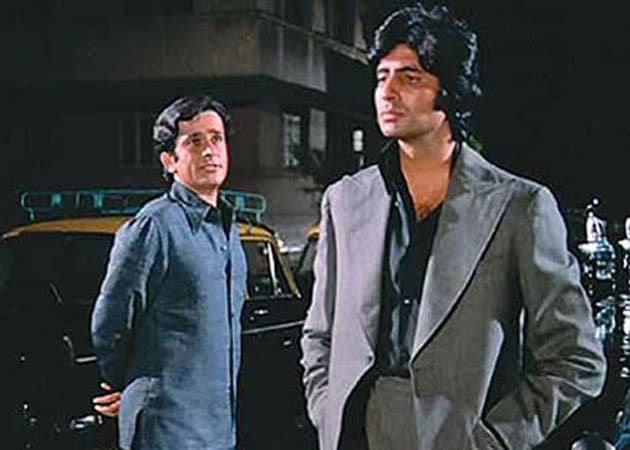 Deewar has to be one of the most quotable and iconic movies in Indian Cinema. "Mere paas ma hai"; "Aaj khush to bohot hoge tum", the dialogues are what make the movie one of the greatest. Vijay (Amitabh Bachchan), a criminal and Ravi (Shashi Kapoor) a police officer are brothers and the movie really picks up speed when Ravi is asked to bring in Vijay for his crimes.
Golmaal is one of the most chaotic movies ever. Amol Palekar playing the ever so humble Ramprasad and his 'twin' Lucky while trying to keep his job and maintain his love life makes it a wholesome experience.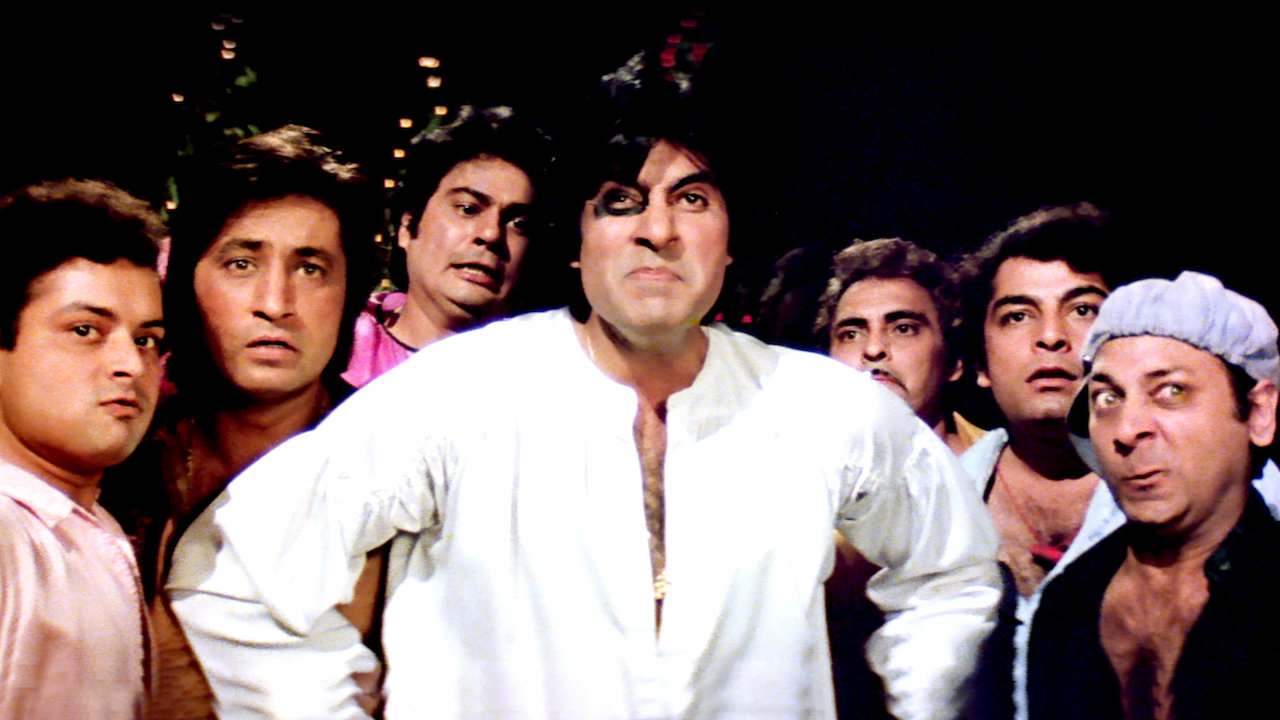 Based on 'Seven Brides for Seven Brothers', this movie is so over the top and chaos driven, making it an absolute entertainer. I have loved this movie since I was around 10 and the group of brothers led by Amitabh Bachchan is just heartwarming. 'Pyaar Humain Kis Mod Pe Le Aaya' is one of the best Indian songs and you'll find me singing this on top of my lungs with my friends almost all the time.
Jo Jeeta Wohi Sikander (1992)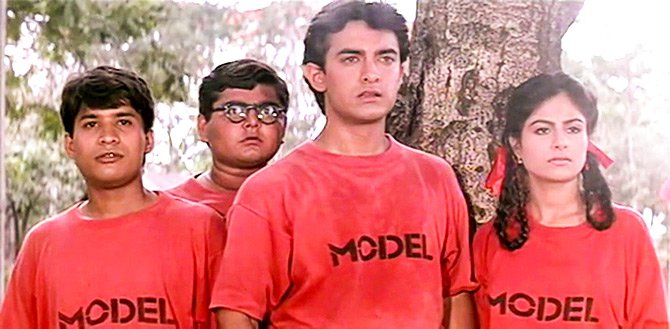 Jo Jeeta Wohi Sikandar is the coming-of-age movie that your parents probably grew up to, but let's be honest, good cinema never ages. The sports arc with the parallel story line of friendship, family and love make this an instant favorite.
The eccentric duo of Amar-Prem played by Aamir Khan and Salman Khan make for the most hilarious movie ever. It is iconic in every way. I personally think this movie was ahead of it's time with the ever quotable dialogues and tear inducing laughter. This kind of comedy and consequence driven story had not been done before which is what makes this movie a cult classic.
I don't know what it is with me and not liking cult movies when I first see them. I wasn't a big fan of this movie when I first saw it but it is my go-to comfort movie now. The story of three friends- Akash, Sameer and Sid is a timeless tale and the direction style is something that hadn't been done before. Kudos to Farhan Akhtar for making such a hit on his directorial debut.
Lagaan is not only a story of perseverance and patriotism, it is also a crowd pleaser. The songs and the visuals make the movie great, not to mention the direction and a well laid out story. I have a lot of Aamir Khan movies on this list, mostly because he is one of my favorite Indian actors in recent times.
This is one of those few movies that make you laugh and cry at the same time. I watched this movie again recently and loved it just as much as the first time. Although the whole movie is really great, Circuit takes the cake for me.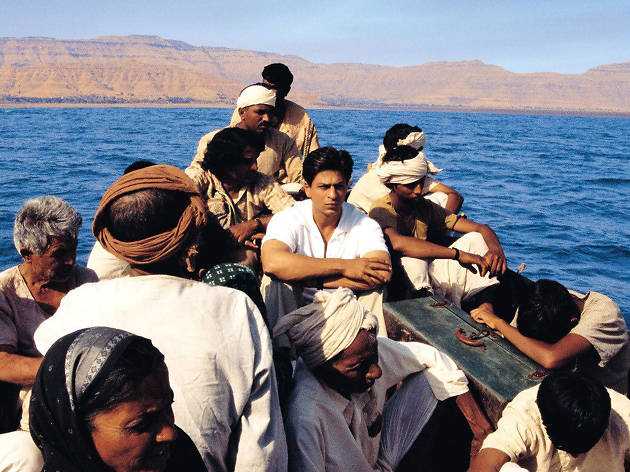 'Swades' is the story of a NRI who comes back to visit his childhood nanny in her village. While there he falls in love with his country and reforms the village. Honestly, this is Shah Rukh Khan's best performance to date.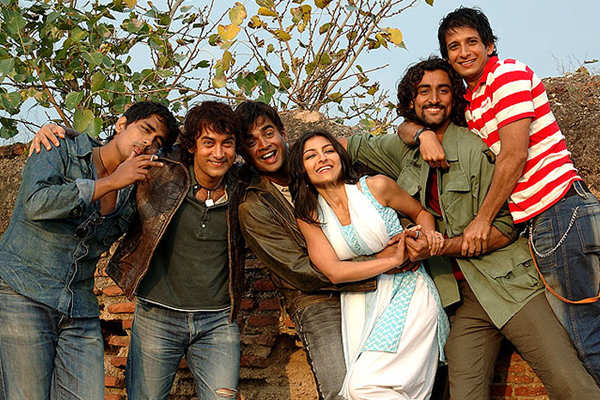 One thing that India does best is making the most memorable friendships on screen and also gut-wrenching, tear inducing movies. This is the perfect example. Again, carry a box of tissues.
'Jab We Met' is the ultimate Indian rom-com. Geet , a talkative and eccentric girl meets Aditya, a depressed millionaire. The two make one of my favorite on-screen couples and the whole movie is as hilarious as it is sweet.
I could go on about how much I love 3 Idiots. The movie is so funny, beautiful and heartwarming that it make you cry too. Basically, make sure to keep a box of tissues nearby. Every Indian kid can relate to this movie which shows the shortcomings of the Indian Education System. The scene where Farhan goes to talk to his father makes me weep every single time.
Zindagi Na Milegi Dobara (2011)
The movie is very aesthetically pleasing and makes you wanna grab a bag and fly to Spain on the next flight. The scenery, the friendship, the songs and the dialogues, they make the movie one of the best ones in recent times.