The word 'Friendship' brings a lot of memories to mind. Some happy and some, well, hopefully all of them are happy. Here's some iconic on-screen friendships to remind you of your best friends!
Chandler and Joey from "F.R.I.E.N.D.S."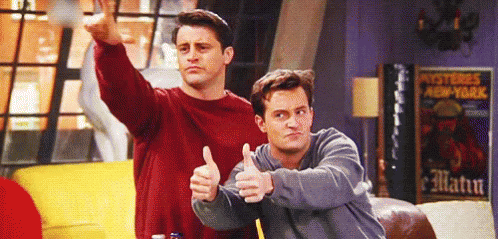 I think we can all agree, Chandler and Joey are the best TV friendship of all time. Chandler even has a room for Joey in his house, need I say more?
Cher and Dionne from "Clueless"
Imagine walking into school with your best friend, exuberating such excellence.
Goose and Maverick from "Top Gun"
Shouting "I feel the need, the need for speed." with your best friend would be the most amazing thing in the world.
Thelma and Louise from "Thelma and Louise"
Anyone who has read my previous posts knows how much I adore this friendship. I mean, adventurous road trip with your bestie, heck yeah!
Tibby, Bridget, Carmen, and Lena from "Sisterhood of the Travelling Pants"
Even though the bounding force of their friendship is a pair of jeans, they are still pretty damn amazing.
Charlotte, Miranda, Samantha and Carrie from "Sex and the City"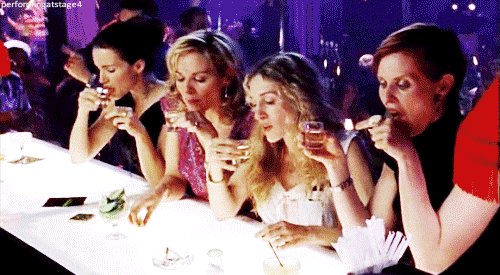 New York and group of friends is a pretty good combo.
Cory and Shawn from "Boy Meets World"
The definition of a bromance.
Nick, Schmidt and Winston from "New Girl"
Living together with your two best friends, A dream come true.
Scott and Stiles from "Teen Wolf"
Even though your best friends is, probably, not a werewolf, having a friendship like theirs would still be pretty dope.
Meredith and Cristina from "Grey's Anatomy"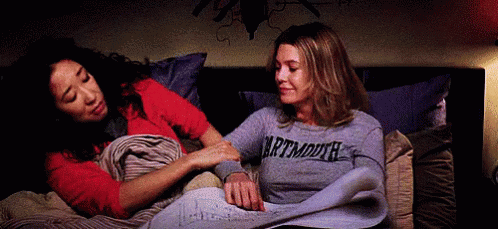 I mean, do I really need to say anything? They are absolute goals.
Monica, Rachel and Phoebe from "F.R.I.E.ND.S."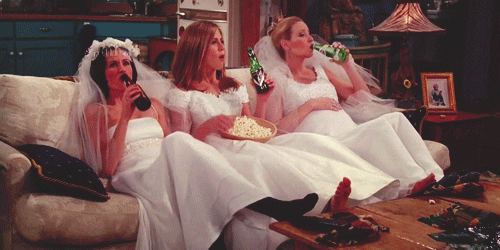 Nothing will ever compare to lounging on the couch with your friends. The wedding dresses are just an added bonus.
Harry, Ron and Hermione from "Harry Potter"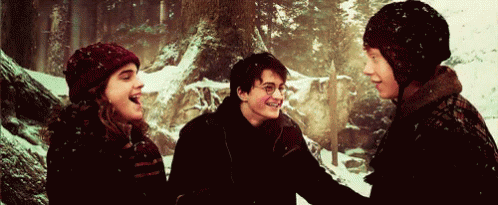 Aah, the Golden Trio. Everyone deserves a friendship like theirs. Except the part where they are being chased down by a eccentric nose-less being, I hope.
Rosa Diaz and Jake Peralta from "Brooklyn 99"
Now, I know everyone loves Jake and Boyle's friendship or Rosa and Amy's friendship, but Rosa and Jake have the most amazing and respectful friendship on the show. Plus, they always have each other's back.
Watson and Sherlock from "Sherlock Holmes"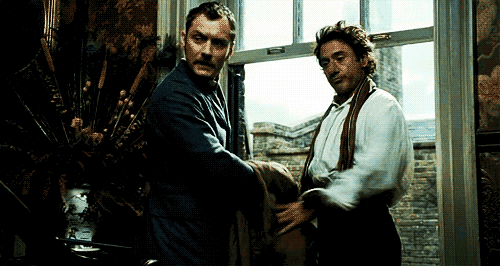 As much as I love Benedict Cumberbatch and Martin Freeman, I frankly am partial to Downey and Jude. Sherlock and Watson have the most iconic and memorable friendship of all times. Not to mention, Watson is the only person who can tolerate Sherlock.
Shawn and Gus from "Psych"
Childhood friends becoming Partner in Crime (well, they help the police but you get what I mean), is a trope I can get behind.
Harvey and Mike from "Suits"
Imagine dressing up in suits and winning cases with your best friend. Not to mention all the parties.
Happy Friendship Day!